Dear Valued Client,
We are proud to introduce Rosenblatt's Imbalance Tracker - our customizable, web-based information portal that will offer a dynamic representation of MOO and MOC share imbalance data in unique and visually pleasing form. The portal will present imbalances as they relate to Five Day ADV, an indicative price data field , and a graphic view of overall share imbalances by sector. The Imbalance Tracker, developed through joint effort between our trading and technology teams, is a product that we believe our clients will find extremely useful when seeking pertinent information leading up to the open and close of trading on the NYSE and NASDAQ equity markets[3].
Rosenblatt Securities has built a reputation for quality and service during its thirty years of existence. That reputation has been built on a very basic tenet: listen closely to gain an understanding of the needs of clients and then work diligently to find a solution and/or provide a service that answers to those needs. Described and shown here is an example of that commitment, in this case before an opening:


The product is intuitive and easy to use, but of course we'd be happy to walk you through a demo. Listed are some key features:
Clicking on column headings will sort symbols as specified
Columns can be shifted according to personal preference
Users can load 2 custom portfolios and edit as desired
Highlighting the star to left of each symbol will raise and hold that "priority" name to the top of the viewing area
Indicative Price Column[4]
Imbalance Tracker will not require a download of any kind on the part of the user and therefore should not require any reconfiguration or change to your internal firewall settings . Simply load the tracker into a web browser of your choice[6] by clicking on http://imbalance.rblt.com. You will then be prompted for a valid username and password that will we supply upon request. Similar password protected access is also available though our website www.rblt.com.
Beginning at approximately 2:30 PM users will see the closing Imbalance Tracker template populated with an early dissemination of NYSE imbalances for a select list of NYSE names loaded by manual input and updated by our NYSE floor trading team up until 3:45 PM. At 3:45 PM for the NYSE, and then 3:50 PM for the NASDAQ, a completely automated display, encompassing all loaded and available symbols, will take users dynamically into the close, refreshing every 15 seconds.
A Sector Tab will offer a dynamic graphic display of overall segmented imbalances as in below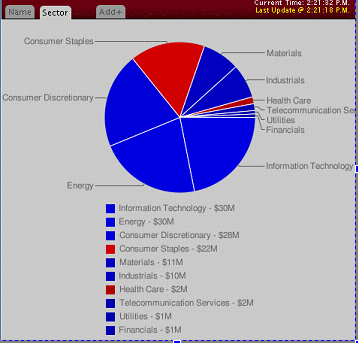 This release of Imbalance Tracker Version 2.0 is our second rollout to wide audience outside of those clients who agreed to beta test and comment on the prototype over many months (Thank you all!). We realize that the only way to maintain a value-add for clients is to not only respond to their needs but to continually improve our game. It is in that vein that we ask for your input, insight, and critique of this developing product. When and where possible we will work to advance this initiative based on your feedback.
Disclaimer: The information contained in this communication is not intended as an offer or solicitation for the purchase or sale of any securities, futures, options, or any other investment product. This communication is not research, and does not contain enough information on which to make an investment decision. The information herein has been obtained from various sources. We do not guarantee its accuracy. Any opinion offered herein reflects Rosenblatt Securities Inc. current judgment and may change without notice. Member: NYSE, SIPC, FINRA
[1] Share data is rounded to the nearest thousand and then updated approximately every 15-20 seconds.
[2] Indicative prices are just that. We do not wish to imply a specific price point where a security may ultimately trade. Several factors, such as NYSE Floor Broker interest, NYSE DMM or SLP interest, and last second electronic order entry can greatly impact price. This data is a useful guide in most instances, however, and can also be used to prompt further inquiry.
[3] Rule changes in effect on the NYSE as of March 1, 2009 include an indicative opening price publication at 9:28 AM and a closing imbalance publication at 3:45 PM along with indicative pricing.
[4] The portal will be pre-loaded with the Russell 1000. If you would like to completely remove this list in order to copy and paste your own list of names please contact us at 212-509-1550.
[5] While the NYSE publishes paired off volume, buy or sell imbalance volume, along with indicative price, the NASDAQ generally publishes paired off volume along with near and far clear pricing to indicate potential price disparity. We are monitoring NASDAQ near clear pricing for our purposes.
[6] Should you have any technical issues at all with loading the service we will be glad to work with you to solve them (212 607 3159).
[7] Please keep in mind that the pre 3:45 MOC feed requires a manual load of information from the floor broker hand-held to a template that enables early MOC data dissemination. We will make every attempt to satisfy requests to add symbols to the select list.